A 13th Day Of The Month
---
Thursday. The Middle East appears on the edge of blowing up and sailors are dying on an American destroyer in Aden, so naturally I'm going to talk about PhotoShop 6 and The Beatles Anthology, both of which arrived this morning. Actually not. I won't be flippant about the dead and the dying, at least not today. Been there, done that.

Friday, the thirteenth. Pretty nice day today, bright sun, just the slightest nip in the air,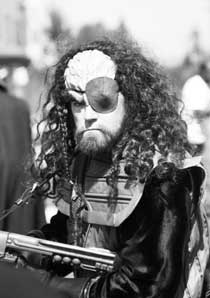 everybody out of the office at a vendor's software demonstration south of Oakland. I walked into work today for the first time this week, my excuse for driving being rain and the threat of rain and the thought of rain and the fear of rain (combined with sloth). This coming weekend is the last weekend of the Renaissance Pleasure Faire and I would imagine that I will not attend the Faire to shoot any pictures. My attitude could change, but whom am I kidding? My one vague thought is to get on BART and go somewhere I haven't been before with a camera and just walk. I haven't been to Fisherman's Wharf in a very long time, but that really doesn't get much of a rise. I haven't been to Sausalito in a long time either. They have a ferry out of Jack London Square to San Francisco and another, then, to Sausalito. Haven't done that. Might be an adventure.
I lived in Sausalito my second year in the bay area, snuggled in amongst the monied hip in the hills and down on the houseboats. I had an apartment with a panoramic view of San Francisco you wouldn't believe. No furniture. Slept on a mattress on the floor, but a nice little modern two bedroom two bath apartment during the days when I was dating MSK. Who lived down the street. Actually, for all my petty sniveling, you could live in Sausalito halfway cheaply back then if you looked around, Sausalito an artsy fartsy village town in the 50's, still retaining a hint of the hip in the very early seventies when I lived there. But no. Not Sausalito. Sausalito was a long time ago. Doesn't leave much. Not north, lived there, done that, not south, been there, don't like the drive, not east, unless it's way way east and west lies the ocean. I'm not ready yet for the ocean.
I vaguely thought about the army as a career when I was in school after rejoining ROTC in my second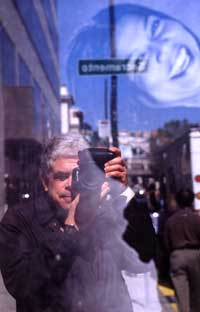 senior year to stay out of the draft. I lost my student deferment and made the assumption I'd be drafted out of school before I graduated and since I'd already done the first mandatory two years of ROTC at the University of Washington (yes, you had to take ROTC as a freshman and sophomore), I figured if I had to went, I'd at least went as a lieutenant. Sleep in a decent bed. Give orders. Grow a mustache and carry a riding crop. Jump out of airplanes. Do pushups. Those were foggy years. Lots of pressure, too little smarts. I was publishing a humor magazine in Seattle, writing a column for the UW Daily and crawling around Fort Lewis with a knife between my teeth on the weekends. I was not military material, but, you know, you get distracted. And disturbed. And you hallucinate: John Wayne, Randolph Scott and Robert Mitchum on the beach eating bullets.
Most of my friends who died in Vietnam died pretty much as those sailors died in Yemen, a mortar round through a window in a downtown Saigon hotel on Alstrom's first night in country, a bullet through Mitchell's head his second week with his unit. Just getting through your first days, nervous, watching, thinking about what might be coming and some kid nails you in the street with what looked like a water pistol.
So where is this going? The Middle East is no more real to me than the presidential race, pictures on television. What Sausalito may have meant or not meant is long since lost in my history. The army, some went here, some went there, even that is but a once absorbing story, long since finished, if not forgotten. What of the now? Sitting here on this Friday evening thinking: what for tomorrow? Shoot a picture, fry an egg, riffle through this brick of a Beatles Anthology. Here in Oakland. On a 13th day of the month Friday.