Just Rattling On
---
Thursday. On the road.

My sister and her husband left for L.A. this morning and I managed to get myself together and head out around eleven. The only thing I know about the Oregon "Dalles" is that it's east of Portland and I had a friend once who managed a tavern there when I was just getting out of college. For some reason that sounded cool, but I was younger and managing a tavern has long since gone the way of other fantasies I may have had about eastern Oregon. Some things don't last. Anyway I skipped the Dalles and made west for the ocean and I've been driving down the coast most of this afternoon, stopping occasionally to shoot a picture. I'm typing this in Lincoln City, which is near the house MSM and I photographed last weekend. Full circle.

Nothing much in the way of photographs. I took this one shot with the digital knowing I needed something to post this evening and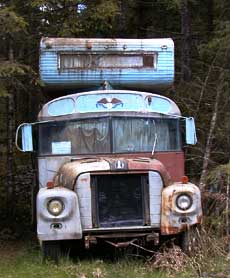 everything else, what little else there was, I shot on film. I think this road experiment is telling me you need to head out for somewhere you've never been before and then give yourself weeks, maybe months, before you find a rhythm that allows you to get into the countryside rather than just driving through it. I stopped at a couple of places, pulled into another cyber cafe (I like these cyber cafes), a small place in a small town, and had a cup of coffee while I took a quick look through some of the journals. More an excuse to stop than anything else. I had an interesting talk with the guy running the place, drank two large cups of coffee and thought, well, this is a bit like I was thinking. I managed a photograph. Progress.
Driving along it's easy to pass something just as you realize it might make a picture and I made myself turn around and go back a number of times. Silly. Did I get anything good? I doubt it, but it doesn't matter. It forced me to look at things in photographer's mode and that was good. Get myself out of my fuzzy headed mood. Sometimes you see, sometimes you don't, but either way it makes me feel better. Just let it happen.
I'm sitting in a Best Western motel half watching a mystery program on Public Television over my laptop screen. A crime series about a British chief of detectives who is going blind and hiding it from his staff. A weird idea and one I find I don't like very much. (nice chance for analysis: why don't you like it, Bob? Does it bring back, well, memories of some kind?)
Writing here, I feel a bit like the detective, the elements are all in place, but the execution is fuzzy. I don't think it's because I'm losing my marbles, but rather because I should be spending more time on these entries. I've had thoughts about making specific changes in my life, none of them earth shaking, all of them important (to me), some of them coming out of this trip, but writing them down needs more time and energy, more than the few hours I spend here. This is just a rough draft, a first look at what the world is about, a start, and a final draft, if there is such a thing, would be altogether different. And, then again, maybe I'm just rattling on. This is a journal, two or three hours in and then you're out.