Since 1977
---
Saturday. Roseburg.

Friday it rained off and on, mostly on, windshield wipers slapping, listening to the CDs I'd brought with me mile after passing mile. Well, maybe "windshield wipers slapping" is a bit rich, I didn't have no Janis Joplin riding beside me, you understand, some Buffalo Springfield, a little Dylan, some Neil Cassady, a touch of Rocky Horror, but no Janis singing Bobbie McGee. Sounds nice, adds drama to an otherwise uneventful drive down the coast from Lincoln City to Coos Bay then a 90 mile jog east to Roseburg.

I stopped at a used book store north of Coos Bay and had a cup of coffee with the owner.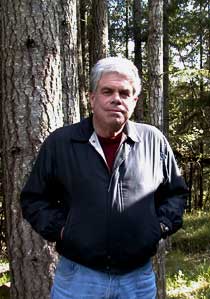 I asked him about a photography shop that was located across the street and he said it was one of the more successful shops in town. So later I walked down to the corner, shot a couple of pictures, of what I do not remember, and crossed the street to take a look. The combination studio and shop was a polished operation, framed oversize color prints of happy brides and little kids as close to cute as little kids not born to Hollywood can get, smiling the smiles of brides and children who have not yet learned the terrible truth. Plastic as plastic can be, but my guess is they sold to the locals like sex before the advent of sin.
MSM has a ton of homework, a Visual Basic assignment due on Monday, but we had time last night for dinner and watch movies late into the evening: Bob Dylan in Don't Look Back, a documentary of an English tour done in the late sixties that I haven't seen in twenty years. (What does it all mean Mr. Dylan, asks the man from Time?. Hard to say, my son, hard to say, replies Mr. Dylan.), The Beatles Story, a film I haven't seen before about a popular group that broke up in the early seventies and the first half of Picasso, Portrait of An Artist. So much for Visual Basic, so much for getting to bed before midnight. Saturday, eight days on the road as I'm writing, two more days of vacation. I'm not sure I'm ready for the office on Tuesday, but what the hell, I haven't been ready for any day at the office since 1977.