That Was Crumb
---
I drove up to Rockridge BART station yesterday, parked next to the entrance and took the train to Oakland and the Art and Soul festival. I didn't want to walk downtown, I didn't want to take the bus, and although the BART route was a lot longer, it was door to door, no effort involved. Art and Soul was not all that crowded. I'd decided to bring a big lens, an 80 - 200 f 2.8 zoom that makes my camera look like a small black military device and the photographer packing it look like he's really serious or yuppie toy pretentious or, probably, both. I've had this lens for three years and use it rarely because I find it awkward.

My thought yesterday was, try something different, maybe I can get closer than I'm able to get with the 135mm f 2.0 that I use most of the time when I'm picking out people's faces. Closer, closer, closer. Nikon makes a 180mm f 2.8 that weighs the same as the 135 and I'm thinking of buying one next week. Smaller, lighter, closer. Yuppie toy pretentious. Old guy, not so young anymore, toy pretentious. Don't care.

Sunday, late in the afternoon. I went upstairs this morning and watched my second DVD movie, Quatermass 2, which I have never seen before. Don't ask me why I bought a movie that I've never seen before. Ancient old British science fiction. Weird. Brian Donlevy as Quatermass. Ammonia breathing critters arriving in small rockets bent on taking over the world. Or Whitehall. Or something. Brian led the charge and got 'em all.

Later this afternoon I thought, well, hell, there weren't that many people at the Oakland Art and Soul festival yesterday, maybe I should just drive over and see if I can find a parking space, travel light with a single camera and lens (the 135mm) and a fanny pouch for film and a battery pack. A t-shirt rather than my shooting jacket that doesn't look like a shooting jacket. Sort of doesn't look like a shooting jacket. Take it easy. Listen to music. A parking spot was waiting for me right where I wanted and I took this as a good sign. A band was playing in the new renovated Swan's market building around the block, so I wandered over.

I have no idea what I got in the way of pictures. Maybe one or two worth printing. Do not care. It was crowded in front of the main City Hall stage, but the City Center area crowd in the block next door was smaller and I easily found a chair and table. The band was playing old Jimmy Hendrix and Animals covers. Comfortable. T-shirt weather, everyone with a beer or two under their belts. In my wanderings I dropped by the brewery pub and had a Guinness. The light softened, my attitude softened, people smiled. Well, this is Oakland, they didn't actually smile, this is not the Summer of Love in San Francisco, you understand, but for Oakland, believe me, they smiled. I did too. Nice afternoon.

There was a book called The Life and Times of R. Crumb on sale at the book store yesterday across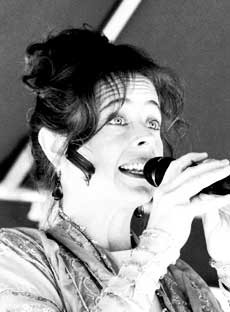 from the cafe where I have breakfast. I was feeling punk, thinking maybe I was getting a cold, so naturally I figured buying some books would help and this one was on sale. Comments from Contemporaries it said, so I read it last night. I knew Crumb, knew his wife Aileen before they were married, can't say I knew either of them well, but I knew a dozen of the "Contemporaries" making the comments and some of them I knew better. I knew these people in the seventies and boy howdy, reading it last night, that was a long time ago. An OK book, everybody polite, and, although Crumb is really really weird, he's basically a good fellow. Has some quirks, you understand, but he's an artist and quirks come with the territory.
And yeah, he's the cartoonist primo, numero uno. He always bitched about the guy who wrote the Sunday New York Times piece calling him a genius, but it's probably true. If nothing else, in his art, if not in his life, Crumb speaks truth. Joel Beck's right, though. Crumb ripped Joel off for Mr. Natural. (Just kidding.)
I remember Crumb as a perfectly embodied 30's cartoon character (drawn, of course, by Crumb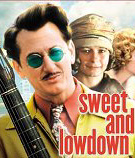 himself). Crumb may have been drawing in the 60's and 70's, when I knew him, but he was living in the 30's. When I saw Sean Penn in Woody Allen's Sweet and Lowdown I said that's Crumb and his band, the Cheap Suit Serenaders. The image, not the son of a bitch Penn so beautifully played in the movie. I didn't know Crumb well enough, up close and personal, to know if he was a son of a bitch or not, but I'm assuming, from what I saw, he wasn't. I think Jackson Pollock has a lock on late twentieth century artist son of a bitch. Crumb has a lock on, well, if you've seen Zwigoff's documentary, you know. That was real. That was Crumb.