Engine Idling
---
Saturday. Cool and overcast. Went to Safeway for groceries. Looked over what I'd purchased as I stood in the checkout line, 7:00 in the morning and still there are three people in front of me. Maybe I'll try Webvan, the online grocery shopping service here in the bay area. I already spend more than half my life in front of a computer, most of it without significant human contact. Life lived in front of an electron tube, four walls, a desk, a computer. I wonder what my mental landscape will look like in another ten years. Hi, ho. Good training, I suppose, for a photographer. No complaints, just odd to watch it unfolding.

Today has been a day of naps, playing Freecell on the computer, two rented movies, the Woody Allen movie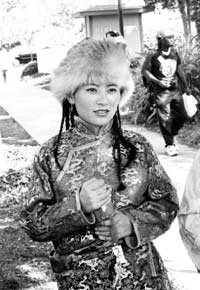 Sweet and Lowdown, with Sean Penn, who's character reminds me of Robert Crumb in his Cheap Suit Serenaders days and The Talented Mr. Ripley, which I have, until now, been successfully avoiding. I have arrived at a point in my life where I can skip a good film if it's apparent that it's going to bum me out and the Ripley trailers I've seen give me a creepy push my buttons feeling, an analysis of which would tell me a great deal more about myself than it would about the film. The problem, of course, is how can I really know this is true until I've actually seen it? Hi, ho, here we go. I will return with my analysis.
Sunday. I got through the first half of Sweet and Lowdown. Impressed by Penn, impressed by Allen. I just, I don't know, I just didn't want to watch this movie this weekend. I didn't even put Ripley into the VCR. Another day of Freecell and fog. Must be work. Too many things going on. Too many projects with too many deadlines with too much indecision about which ones are real and which ones are the flavor of the moment. One day it's full bore don't spare the horses, the next day it's cut $20 million from the budget (which means something is going to get axed, but what? when?), the next day we're outsourcing this, the next day we're outsourcing that, this week we're going to class and, by the way, next week we're all going to Asia, America and Europe. So get ready.
Evening. Weekend over. Engine idling.