Work For A Living
---
A good weekend, I think, although I haven't done much writing. Wandered around shooting pictures. Nothing too grand, a trip on a bus downtown on Saturday to see if I could find some clothes hangers, something I've been needing for these last three years, if not my entire life, particularly a model for pants. You know the kind with the clothes pin like clips you attach to the cuffs? The Gap suggested a Wal-Mart or Rite Aid. Sears suggested the same. I didn't even enter The Men's Wearhouse.

Later that afternoon I drove over to a big Long's Drugs, not quite a Wal-Mart, but multiple football fields in size, and found some nice hangers made out of a colorful plastic tube material for 19 cents apiece and some big brother look alike models complete with clips. Big deal, you say, but this gets my Levi's, excuse me, my new Lands End neatly folded denim pants off the chairs (sort of neatly folded) and inside the closet. This is good. And good is good.

Similar day Sunday. Another bus ride through the downtown to Jack London Square, still packing the F3. Shot both black and white and color. When I got home I picked up one of the F5's with a long lens and went back out to get in closer to the birds on Lake Merritt. I'd walked back home from the downtown on Saturday around parts of the lake shore I hadn't seen for some time and was again amazed by the number of birds. The Pelicans were dive bombing, breaking through the surface of the water from maybe twenty feet up looking for lunch. The geese, the gulls, the little black guys with the weird looking beaks. Thousands of the suckers.

Between all this, more boxes unpacked, more books up on the shelves. Thought about cat pee and rugs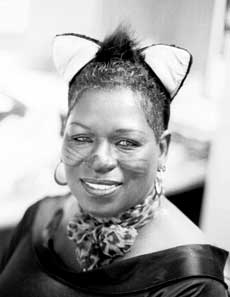 after searching the web for help. Many, many entries. Some of them talk about a solution to the problem that doesn't require replacing the rugs, something that soaks down through the rug and the pad and the cement floor and successfully corrects the problem never to return. No chemical odor, no odor at all. Is any of this the truth? Are they all just hawking their products or do some of them actually work? I will talk to the vet about this: is this real, is there a local resource she can recommend? I've probably lost my deposit on the old apartment, but I doubt I'll have to come up with any more money than I have already. Bummer. But better.
There's still Wuss, there's still a session with the vet at the University of California at Davis, but I'm realizing this may well be a managable problem. I bought some rubber backed rugs at the suggestion of a reader, one for the bed, one for the carpet where the sun comes in through the sliding glass balcony door. I introduced Wuss to the new cat door with the clear rubber flap and the magnets that secure it at the bottom. Wuss was not amused. Wuss did not have a clue as to how it worked. Poor Wuss. Wuss, Wuss, the leaky puss, who inhabits my apartment.
I've had trouble sitting down and writing. I've had trouble getting much of anything done at more than a snail's pace. I'm going to take some days off this week and take a few days here before I drive up to Portland for Thanksgiving. I need to get away from the office, get away from thinking, get away from operating on a schedule. It's at times like these I realize I made a terrible mistake by being born into a world where I had to work for a living.