Go Girl
---
Monday. It's probably a sign it's been a long day when you forget to pick up the film from the camera shop in the afternoon. Work should not impinge on one's hobbies. Work should not impinge on one's journal. Work should not embed itself into one's life, judging from the way it's going. Miserable employment opportunities, here in Northern California - its says so in the paper - miserable because all of us lucky to be employed are doing the work of those who have been let go and it's wearing. (Ya'll come back, now. Please?) Or is this the dizzy head speaking? A man who has yet to figure out how to work smarter? They suggest we work smarter. I don't want to work smarter. I want to go to bed.

Tuesday. I forgot to pick up the film again. My, my. Totally forgot. The day started miserably or, at least, my head started miserably, but got better as time progressed. Very tired with tunnel vision became feeling better with less tunnel vision. Tunnel thinking, anyway. Keep the head down, keep the many colored balls in the air. Forgot the film, though. Two days in a row.

Pamie's book arrived today from Amazon. Why Girls are Weird,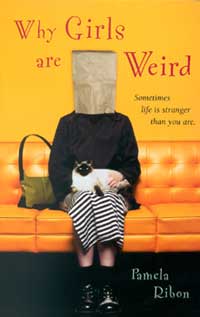 "Sometimes life is stranger than you are." So I'll start reading it this evening and carp again about life, job, head, heart and kidneys tomorrow. Not sure how she's handled the story, but it looks as if it's about, well, a journaler, who's life is complicated when she starts an online journal in - where else? - Austin (Texas). Pamie has a history in the journaler community (Squish! Squish!) and you know the name and you've ordered the book or you don't know the name and you haven't ordered the book, but either way I'm cheering for her here as she couples with Dragon Fame. Or something like that. Go girl.