Then Cut Out
---
Friday. So. The day we await. Another one. Here. Right now. What to say? I'm sitting here listening to the radio as I'm writing and that's good, I enjoy that. I've had my drink for the evening and it's Friday, so I've had another, which means I'm not sure how this will read in the morning. The week at the office has been brutal, but interesting. Many things happening, many people looking frazzled, management looking distracted, none of us with a clue, nor, if the truth be told, is it something we necessarily want. We'll know soon enough. I mentioned corporate interruptus. Corporate interruptus stirs the pot.

There's a 32nd annual fair of some sort in Berkeley tomorrow, another one of those put up a hundred folding tables with canvas covers selling stuff nobody needs, a bandstand, a clever name, a couple of musical groups and hosted by Wavy Gravy. Which is good. Plenty of people to photograph. I like Wavy Gravy. I like free music. I seem to recall I've shot pictures there before, thinking at the time what's here to shoot? and then thinking later, after looking over the pictures, what a dim bulb sir, the pictures were there and you were not.

Saturday. Slept in a hour later before having breakfast (outside, this time, in the sunlight)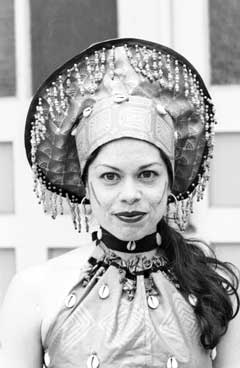 at the usual haunt. The farmer's market under the freeway was in full swing as I walked by, thinking, why not buy some apples for lunch? Every kind of plum, cherry, berry and fruit but no apples. No apples? A portent? Walked on. It was just a thought. Turned over the idea of joining a health club for six months, one on the way in to work. Get up early, walk to the club (limbering up), do the weight exercises, take a shower, finish the walk to the office ready by eight. I have many foolish thoughts, but six months? I could do six months. Maybe. Take me through Christmas. The results? Might make it easier to carry these cameras over my shoulder. Might lose these last ten pounds I've been wanting to lose for months. I wonder. (Yes, even I find this hilarious. Not sure why I can't stop. A journal as therapy. Cheap therapy. Every other day on the couch.)
Later. Drove down to the sew and vac store near the Grand Lake theater and rented a Rug Doctor. Steam cleaned the rugs around the kitchen, in front of the bedroom door and along the sliding glass door leading to the balcony, places where Wuss liked to hang out. I admit to little hope a Rug Doctor would rid the rug of spots, but I'll be damned. They're gone. Gone. The rug looks fresh. Clean. I am chastened and amazed. I am thinking of moving boxes out of the living room and into storage on an accelerated schedule, sometime between now and Christmas, don't ask which Christmas. This is good. Why I finally got it together to do the Rug Doctor thing I don't know.
Drove over to the Live Oak Park Fair in Berkeley. I guess I was supposed to be there because I drove right to a parking space (with a disabled meter) a short half block from the entrance. Wandered through the tightly packed arts and crafts booths on the grass. This is Berkeley. It costs money to live in Berkeley and these booths were selling crap, yes, but expensive crap. I was impressed.
Mr. Gravy was talking to the crowd under a tree on a small bandstand. Very arty looking people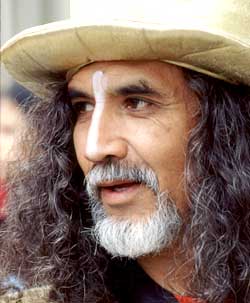 saddled with similarly arty looking children were sitting on the grass listening. A line of booths selling food stretched into the distance, the longest line in front of the one selling vegetarian fare. It seems that Ben and Jerry's Ice Cream is discontinuing Mr. Gravy's flavor for lack of sales, which made me sad. Then I realized Mr. Gravy had been using his royalties to support Camp Winnarainbow, a charity for children. (Mr. Gravy is not like you and me and will, one day, be remembered as a guru and a saint. Right now he's an old guy in a clown suit, but those are the sure indicators, the image of the clown a traditional ploy to trick the uninitiated into the presence of God. That's the big "G", you understand, the one with whom-him-herm you don't fuck around.)
I didn't like the feel of Berkeley today. Too rich, too domesticated, too far from the street, too politically correct, too much exercise, too many vegetables, too many Volvo's, Saab's and the occasional Jeep (and I like Jeeps). I don't mind the politics and have no problem with peace initiatives, particularly in times like these. Times like these need debate. So I shot maybe ten pictures, five of them of Mr. Gravy, and left. On the way home I had (what else?) an epiphany of sorts (number seven thousand, seven hundred and two in the never ending series):
First, the apartment. Clean rugs are enough. If I move boxes one day, if I buy more bookcases, so be it, but the apartment is done. Anything else is gravy, wavy or otherwise.
Second, I've found a back door way to do work I enjoy at the office. I'm going to spend time, sometimes my time, sometimes their time, doing this work I enjoy and not spend one extra over thirty five and a half hours a week minute doing their brain dead job. If I come in on a weekend, it will be to accomplish my objective, not their's. Doing work I like will work itself into a full time gig, it always has, so why sweat it? They'll be happy, I'll be happy. Onward. (Iteration number five thousand and three.)
If another cat scratches at the door I'm keeping it, but I'm not going out and looking. Not right now. When I click back through the journal looking at the pictures and stumble on April 21st I have to stop. I don't read the entry. I took the photograph two hours before he died.
No more visits to Berkeley except, maybe, to photograph Mr. Gravy, and then just for a short visit before I cut out.