Chesty Morgan
---
The water in the radiator was down by a three quart plastic Tropicana orange juice container. The oil looked as filthy as it always looks, but it was right up to the mark. The water temperature remained sensible after driving over to Berkeley and then back at speed on the highway. I appear to have dodged a bullet.

I went to Tower Records today, and then Rasputin's, a used record store well known throughout the area on Telegraph, near the Berkeley campus. Talk about feeling old and out of place. There was an ocean of independent labels, Hip Hop, Rap and rock and roll that I didn't even recognize. Where did these artists come from? I bought a copy of Buena Vista Social Club and the big Grammy winning Santana album. Twenty years ago I don't think any of the artists I listened to had ever won a Grammy. Serious music wasn't nominated for a Grammy. Back then the Grammys wouldn't touch the Beatles, let alone some kind of ethnic guitar music coming out of the Mission district. We called it rock and roll and we listened to it day and night, swacked on life and psychedelic drugs. Now Santana is winning Grammys and I'm in Tower Records without a clue, buying stuff off the pop chart kiosk.

Buena Vista Social Club is good. Ry Cooder producing. Wilson wasn't into Cooder because he felt he was a white boy covering old Blues stuff better listened to in the original. Wilson, as I remember, went to school with Musselwhite in Kansas and they kept touch, Wilson having one of the better Blues collections in the neighborhood. Not that it matters, Wilson knew his Blues. (Crumb was the same way. Started young.) Fine with me, I was so far out on the white bread end of the spectrum I listened to Eric Clapton and even, (even now, a terrible admission) bands like Led Zepplin. If there was anything worse than American white boys making bucks on the backs of black Blues masters, it was English white boys making bucks on the backs of black Blues masters. Sour grapes. Even Wilson had to nod his head to the Rolling Stones. Don't know about Crumb, though.

I rented two movies over at Movie Image, a video store specializing in "American Classics",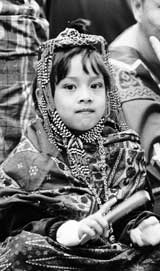 "International", "Cult Movies", "(Sleepers)" and "(Camp) Favorites". I used to go there fairly often before I moved. It's the only store I've found in the area that stocks old Samurai epics. Lots of director collections and "cult classics" ranging from Chesty Morgan's Double Agent 73 to Mick Jagger's Performance. I have my own copy of Performance. A young woman with a "possessor of secret knowledge" smile was standing beside me looking through the Hong Kong section as I was examining a copy of Toshiro Mifune's Band of Assassins (not so hot) so I asked her for a recommendation and she suggested The Heroic Trio, a film I discovered when I played it later stars three women who run around helping the police nab baby snatchers, murder demons and Zen Masters gone bad. One of them was named "Wonder Woman" (I think). I didn't catch the names of the other two. Liked that young lady with the secret knowledge smile, though, and, you know, it was in Chinese so it was probably camp and over my head. Maybe I should have checked out Chesty Morgan.
---