Getting Nervous
---
Sunday. I checked out the new apartment. Took a measuring tape and wrote down all the room dimensions to calculate if it would hold my crap, checking to see what I'd have to get rid of. The automatic metal link door to the basement parking garage responded to the clicker. Not very many cars inside so maybe these people like to get out on the weekends. Either that or there were lots of empty units for reasons I cared not to think about.

You can usually tell about a neighborhood by the cars parked on the street. Nothing as crappy as my '78 Toyota with the bad left turn blinker so I assume I am moving into polite, but one hopes, not too polite company. The Sole Proprietor doesn't like too polite, but he doesn't like uncivilized either. No loud noises after ten. Someone is playing loud jazz in the apartment building facing the back. I do not necessarily take this as a bad sign. Jazz is, after all, jazz. It fades to nothing when I close the sliding glass door to the balcony.

Monday. I am making progress. There are boxes everywhere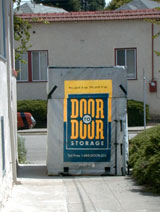 and the storage container is due to be delivered sometime between 10:00 and 1:00. I have measured everything and discover I have 3" more wall space than I need for my bookcases, stereo, desks, computer table, bed, dresser, record case, television set and chairs. I take this as a good sign. I'll have to dump the refrigerator, the nice little rolling tool chest I special ordered for my hobby gear and my bicycle. I forgot I had a bicycle leaning against the wall in the pantry. I would feel badly about the bicycle if it weren't for the number of bicyclists who die every day in traffic, a statistic in the continuing guerilla warfare with cars. Life goes on, but only if you let it.
As you can see from the photograph taken with the digital camera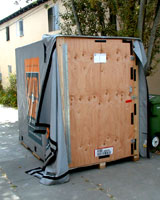 they have arrived. Very efficient. I wish I'd taken a picture of the truck with five boxes and an industrial strength fork lift truck on the back. I've been packing on and off throughout the day and loading the box in the photo at the left. I won't have to use the second one. I'll be able to get everything inside including my hobby chest and bicycle, so I'm only out the fifteen year old refrigerator. Have no idea how long this will be in storage, how long I'll live at this new apartment. Could be a year, could be forever. You never know, although it would take dynamite or a woman to get me to move. Losing my job has a similar effect.
I'm still fighting this packing and moving business every inch. I'm looking at my apartment and it looks not one whit less crowded than it did before I loaded fifty cartons into the box. I need to remember I have four days before I move on Saturday and I can run four or five loads between now and then, so maybe this is OK, but I have this hunch I'll be sweating come Saturday and Sunday will not be a day of rest. I'm running short of packing boxes, which I can always fix with money, but the head is spinning and Mr. Wuss is curled up on the bed. He knows something is going on, I just don't know how much. Cat reality must be like Sole Prop reality in that we don't like to change caves except under extreme circumstances, yet here I am packing boxes. Mr. Wuss is getting nervous.
---