BACK TO THE:

[journal menu]

[home page]

[Oakland Cam]

[email the Prop]

[sign guestbook]

[view guestbook]

[100 Books List]

[Other Journals]





August 8th, 2000
For One Afternoon
---
I've got a cold, but not a bad cold, and I hope it will die a doddering death by tomorrow. I'm taking it easy in any case. I attended the web design class Monday and spent the morning at work, but came home and took the rest of the day off. Our new manager does in fact start tomorrow and although I will be here at the apartment during the day to let the sprinkler repair crew inside (and watch their asses while they work) and although I have to drive down to Palo Alto for the doctor's appointment I made more than a month ago (popular doctor), I will arrange to be at the office first thing tomorrow morning, my grey hair brushed and wearing a pair of Dockers that still has all of its buttons, to meet him with the rest of my group.

The two pictures were shot about twenty minutes ago. The light isn't good and the sharpness could be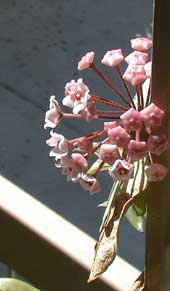 better, and, you know, bitch-moan, but I'd forgotten how nice it is to shoot a picture and just load it on the computer. And how good they turn out. And how nice it would be to have one of the big Nikon digitals that use all the lenses I've accumulated for my film models so I could actually hands on focus the damned lens and get a sharper picture. And then I think about how much they cost and wake up and think about other things. Eventually. They'll come down eventually. The picture to the left is a photograph of my "looks like it's made out of green plastic" creeping vine. And damned if its flowers don't look like they're made out of pink plastic! How nice. A year ago it was all but dead when I inherited it with the apartment, and now it's pregnant!
Enough sickening enthusiasm for one afternoon.

Some shots with the digital camera. White flowers against dark backgrounds are a bitch to shoot and I didn't try very hard. Point, shoot, print. The quote under The Sole Proprietor title is by Christina Georgina Rossetti, except the proper quote is "Better by far you should forget and smile than that you should remember and be sad" from Remember, 1862.
LAST ENTRY | JOURNAL MENU | NEXT ENTRY