Time To Pack
---
For whatever reason, although the flu is gone, I've felt like a lead soldier locked in a steel box hidden away in a high gravity basement. Tired, but not the kind that let's you sleep until it's time to sleep, the mind scattered, thinking: well, this sucks. Ennui in spring. A ding.

Still, tomorrow I hit the highway. I picked up a nondescript Chevy Impala at Avis this afternoon. I can tell it's a Chevy because I recognize the logo in the middle of the grill, otherwise it's a lump of metal. Has electric most everything, a CD player and cruise control. This is what I wanted. Tonight I give the apartment key to the guy upstairs who will feed Wuss, pack (right, last minute packing), charge some batteries for the cameras, pack the chargers, pack the second box of stuff that came from Land's End on Monday, pack some old science fiction books for my nephew and what? Get in the car tomorrow morning and drive. I can feel the breeze.

Not much to say otherwise. MSP liked the photographs I took of her parents 50th Anniversary Party.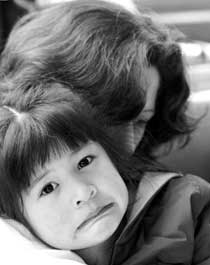 I, of course, was shaking my head and thinking how they might have turned out better. I forget people aren't used to every frame being properly exposed and in focus. The not amazing expression on Uncle Louis' face is not troublesome to someone for whom Uncle Louis is, in fact, an uncle. Just relax. Take it easy. The one picture I printed from the two rolls of black and white is reproduced here. I liked the expression. Mother and daughter, a nice studied frown for the photographer. It could end up in the portfolio if I could ever figure out how to properly print it. Or if I ever actually put together a portfolio. Mumble. I'm good at mumble. "He was good at mumble." Mumble.
Time to pack.