Without A Mention
---
I took a look at the Oakland Tribune web site this morning. I don't buy the Tribune, opting for the San Francisco Chronicle instead, but I notice they show Festa Italiana being held in Jack London Square today and tomorrow and an AIDS walk that's being held down somewhere around Lake Merritt today, either one of which I might like to photograph. Not a mention in the Chronicle. So I book marked the site. I'll continue to buy the Chronicle in the mornings and check the Tribune web for events. (This is a support your local newspaper before it fails for lack of readership blurb. Blurb, blurb.)

Foggy, this morning. Dark. Winter is coming, I think, and Daylight Savings becomes history on the last Sunday in October. The last Sunday in October (having just looked it up on the web). Hell, that's not for another month. Change subject. I've got a time horizon of about three days. One, two, three, heap. The American Indians had that one right. Still, darker and colder. I had breakfast inside the cafe this morning. Should have worn something warmer than my shooting jacket that doesn't look like a shooting jacket, but a hip old guy's coat (wince). It is now ten and the sun is breaking through as I write. It will be warm today. Nice. Still. Here comes the chill.

Do things today. Get ready to move. Have it all arranged and scheduled by the end of the day Monday. (Slap! Slap! Wake up, moi! Shake a leg!) Make a list. Make a couple of lists. Hell, walk down to the lake and shoot the AIDS walk. I have weeks yet. Heaps of weeks.

Late in the afternoon, back from Festa Italiana and lunch. I've felt hungry these last few days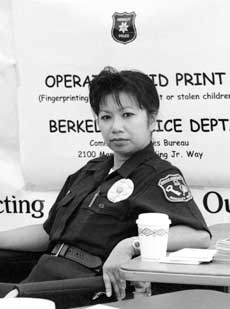 and I went over to Emil's Barbecue for potato salad and a chicken sandwich. Every now and then you need to eat potato salad and something that was cooked and basted with tomatoes and sugar on a grill, the hell with whatever it has inside that the doctors don't like. It's all those years in medical school and those impossibly long days and nights they spend doing their internships. Makes them crazy. The coffee does something to their brains and they start pigging out on low fat cottage cheese and wheat germ. Nasty stuff. Either that or the inordinate number of patients they find crawling in through their door with hard arteries, two or three flavors of diabetes and barbecue on their breath. "I'm dying, doc!"
"Well, of course", they reply, looking up from a miserable low fat lunch. "What's your health insurance company's position on quadruple bypass?"
First day without a mention.