A Little Dizzy
---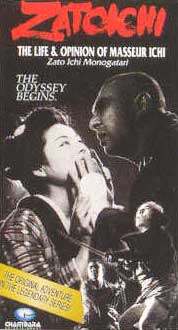 Thursday. So I rented a copy of The Ipcress File and Drunken Master, the one, because it impressed me when it was released in the 60's, the second, because I've heard of it - good or bad, I don't remember - and I thought what the hell, I'd watch a Jackie Chan Kung Fu movie this evening. They're written and acted for, um, younger viewers, aren't they, the Jackie Chan movies? There was a Drunken Master II and, I think, a Drunken Master III on the shelf beside it, so I assume they're popular, but I'll pass and go with Zatoichi when I'm in the mood for "aw shucks!" martial arts. The only problem with Ichi is remembering which of his twenty-six movies I've already seen.

That means you didn't like it?

That means I'm not Kung Fu material.

I do remember the framing used in The Ipcress File, the odd shot of a figure approaching through the glass of a parking meter, through a half open door, a face framed by a man's shoulder. Made the movie special. That and Michael Caine in his first starring role, Nigel Green as the Major, Guy Doleman as the Colonel and the tasty Ms. Lloyd as Courtney. The DVD included a conversation between the director Sidney J. Furie and the cinematographer, who'd done the early James Bond movies (remember this was released in 1965), talking about initial problems with the producer for what was, at the time, odd ball photography. Anyway, enjoyed The Ipcress File. A nice introduction, way back when, to Len Deighton.

Friday. I've been more aware of carrying a camera since buying the big 28 - 70mm lens, aware in the sense it rides on my hip like a megaphone: "Steal me! Steal me! Hit this guy on the head and take me with you!". Today, returning along the lake, I stopped to take a photograph and someone stopped to say "be careful". He'd once had a guy walk up to him in a park, reach out and take the camera he was carrying, nothing he could do about it. I said yeah and thanked him for the thought. I've had three strangers stop to warn me these last five years, none of them, I notice, carrying cameras. Would they have been carrying cameras as they passed had they not had their experience? Would I? So I look around.

Someone I've passed a dozen times will one day say, hey, the guy all the time with the camera, where's he live? He lives in an apartment with his three excellent brothers, the notorious Manny, Moe and Jack "The Knives" Proprietor, who are holed up on administrative leave after demonstrating, um, unfortunate psychological abnormalities in a series of aggressive encounters with testy locals, a police warning sign tacked to our door: "Forsake all hope, ye who would enter".

What was that about?

I don't know. I suspect it doesn't make any sense to carry a camera out in the open everywhere. At least not the big ones. Going to work, I carry it in a knapsack. When I'm out on my own, I carry it over my shoulder. Maybe carry the F3 instead, smaller, obviously older, looks less valuable. I could also move more often, I suppose, keep a P.O. box, an unlisted number, an unlisted life; stop the journal, buy a car and live, for whatever time remains, in happily imageless ever after. Here in Oakland. On a sunny day. Kicking around. Feeling tired. And a little dizzy.