I Hope Not
---
The color slides of the trip look OK. I made prints of two of the photographs of the house built for the Sometimes A Great Notion movie made from Kesey's book, but they need some work in PhotoShop. The fireplug looks better printed than on the screen, but I suspect that has something to do with the Gamma settings in PhotoShop. Does the phrase "Gamma Settings" make you want to open a manual and read the small print? The color isn't that far off. I've successfully avoided "Gamma Settings" for a number of years. Those of you who wish to master the art of photography should adopt a different attitude. I am lazy. Selectively lazy, but lazy. I use autofocus cameras. I have my local camera shop develop my black and white film. I've considered buying a lighter weight camera.

The San Francisco Cinco de Mayo parade should be scheduled for this weekend and that will kick off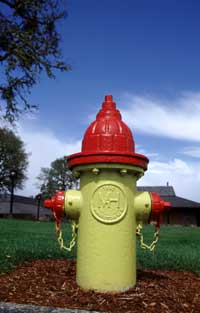 my summer shooting. This is my third or fourth Cinco de Mayo and I've had less than even results. Go early, of course, that's where I find my best photographs, go even earlier this time, but maybe try something different. Maybe bring the 80 - 200mm zoom, the big f 2.8 log of a lens that makes you tired just to look at it, and see if lugging it around might not make for something different. I shot some nice things with it on the first parade using a light weight monopod - looks like a thick broom handle with a camera on top - and maybe throwing this ungainly thing around will give me a different perspective, get me up closer to the topless lady dancers. I mentioned I like to shoot faces? Well, I especially like to shoot the faces of topless lady dancers, except I'm still embarrassed to push my way through the crowd clustered together in front of the float with their cameras.
Oh, hell. There's only so much mileage you can get out of the topless bit. I once ruined an entire roll of black and white film that I'd shot of the Dykes on Bikes contingent at a Gay Pride parade. For whatever reason, it looked as if all the female gay fashion models in town had turned out to show the flag and bare their breasts for this one particular parade and there I was with a camera. Two cameras. And quite a few of the more spectacular ladies stripped to the waist just as the motorcycles pulled out onto the parade route. I screwed up a lot of photographs that parade. It's just, once you've written your "aw shucks!" bare chested ladies bit, it's hard to repeat for any reason other than (ow!) titillation. And I wrote one last year. And probably the year before. So I'll just shoot and keep my mouth shut.
I have one of those just beginning headaches and just beginning stuffed up noses. I just got over the flu. What is this? Is it for real? MSP was just getting over a cold when I returned to work on Tuesday. MSP? Are we passing something around? Am I going to miss my parade and topless ladies because I am flat on my back in bed this weekend? I hope not.