To A Slacker
---
Sunday, the 4th. So, we begin this first week of June and soon half the year is over. I'm going to concentrate on a handful of get done by year's end achievements such as buying a new bed and cleaning the kitchen. I have a printed list of them here somewhere with exhortatory marks written beside the more important, but starting tomorrow, mama, starting tomorrow. Today is a day to sit back like some drag assed dead battery and bitch about the beautiful day outside. At another time I'd stew because I was sitting in here instead of out there lugging one of my made of bricks cameras and communing with nature. I've downloaded the drivers I need to install Windows NT, but that's enough for today. Point and click. I'll redo the computer and scan photographs tomorrow. Or Tuesday.

Three days later, in the evening. I said I was going to run at least one photograph of a topless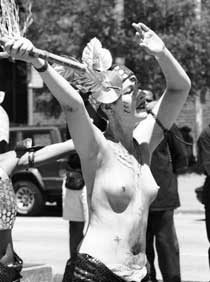 Carnival dancer, so when I got the first batch of contact sheets back, I went through them to see what was suitable. I'd shot some when I first arrived at the San Francisco parade and I said in an entry afterward that I'd smacked some old fart amateur out of the way with my Nikon to get a clearer picture, but I was, um, you know, exaggerating. I really hadn't been all that aggressive getting in close to the topless ladies who were putting on makeup near the front. It was the slopping the hogs aspect of the whole scene that got to me. I don't much like the image of a geriatric old fart hopping up and down on the pavement, clutching at his Brownie and running after the more than half my age more than half naked dancers who were more than half sneering at the crowd that was standing docilely in front of them shooting pictures. Well, they weren't sneering, but it was close. Damages your self image. They probably didn't understand that I, at least, was a practitioner of the higher photographic arts, a man of sensitivity and soul and not some terminal speed freak with a hard on and a point and shoot.
Six or eight pictures of the topless dancers in the San Francisco parade, and none of them any good.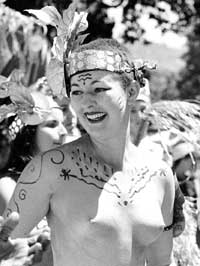 Where were the fall back pictures of the one lone topless dancer in Oakland? They weren't there. A total wipe out. I later found two rolls of film that had gotten lost in the shuffle, and the contact sheets, when they came back, had a number of photographs including the ones on this page. These were shot the day after the SF Carnival parade and I'd had time to rethink my tail between the legs attitude in shooting the day before. In Oakland, this was the one lone woman who danced topless. No cat calls. No whistles. The men would sort of look at one another when she passed. (Did you see that? Yes, I saw that, but we're all too hip here in Oakland, my man, to remark upon it.) I, on the other hand, my act now in gear, was as intrusive with her as I was with everyone else, that is to say, I acted like a photographer and since everybody understands how a photographer is supposed to act, everyone went home happy. At least I did.
I've been working at getting this computer up and operating so I can scan photographs again. Tonight is really the first night I've been able to do it. It's hard to tell from the contact sheets, but I think I got some good photographs that weekend and I'm looking forward to scanning them while I can still remember how they were shot (how I handled exposure) and apply the lessons to this weekend. Nice. I began shooting again some three years ago now and my enthusiasm appears to be growing. This seems oddly soothing somehow to a slacker.