Week In The Pit
---
Saturday. I dropped by the office before noon and loaded some files onto diskettes to bring back to work on them here later this afternoon. I left three contact sheets on my desk that I'd promised to bring in for MSW. She's asked for them twice and I've forgotten them twice. The mind is going, I think, the only question is how fast and how far it may go before I don't need it anymore. I'm not worried, just watching, you understand, and, um, taking notes.

Afterward I went over to Ratto's and ordered a sandwich that I ate out in the sun at one of their sidewalk tables, temperature in the high 50's. Partly cloudy tomorrow, rain on Monday. Even on a weekend, weather nice, not too many people, it had an eating in an industrial district quality about it. Maybe that's not right, but a city sidewalk pressed up against the curb was never designed for civilized eating at an outdoor table. A small park, maybe, the way they seem to handle it in San Francisco. The automobile pulling up at the curb, the exhaust, the people inside, talking, oblivious to the world around them, I, sitting there with my camera....

Sunday. The words came hard yesterday, somehow, today may be better. Had breakfast as usual near Lake Merritt and then came back and answered three emails that I have not answered for whatever reason for too many days. I'm not sure why, but I go through periods when writing or maybe thinking is difficult. The head fuzzy, the body a robot, get in the car, drive to wherever and, if wherever is a little off the beaten path, I'd better pay attention because I'll miss the turn and wake up later after having been immersed in an internal dialogue, blocks from my destination. Sometimes.

Other days, the head is clear and I map out plans to conquer the world, read books, vacuum the apartment. Vacuum the living room, the entire apartment is, perhaps, beyond my ability to concentrate. Do I make myself sound like a basket case? I'm not, but I occasionally wonder. I put a different lens on the camera this morning. Lighter, more compact. Makes a difference. Affects the mind and how it looks at the world. How's your world? Mine's fine.

I'm going to walk down by the lake in a few minutes. The sun is shining, the temperature is in the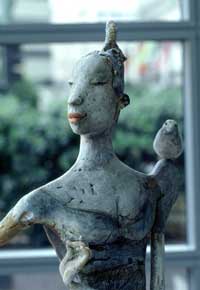 high fifties. I need to get out and do some walking. For all my carping, I'm looking forward to this new year. If the job evaporates, a better one will follow. If the life has been lonely, it will be less so. If the writing is proceeding poorly, it will get better. If the photographs are bland, they will become deadly. It's a Piscean thing. We have fertile imaginations. We just aren't the best choice when you need someone to run your corporation, although we've been known to start them. I'm not sure this Piscean thing has anything to do with the fact it's 1:40 in the afternoon and I've just realized I've missed the beginning of the Super Bowl. I have learned since the last entry that the Ravens are playing the Giants. The Giants I know. I'm not sure I care one way or another which one of them wins. I'd like to see some of the commercials.
Half time. Good timing. I'm still taking a walk and soon, but we'll see who's ahead and at least get a feeling for the flavor of the thing. If the packaging has changed any in the last year. Everything drawn in heroic terms, every meeting a mythological event, quarterback one, the product of the American Dream, meeting quarterback two, the product of the American Dream, on this day in the very heart of the American Dream itself. And maybe that's the way it must be when the audience is three sheets to the wind, glasses in hand, thinking the things you think about when you're dancing on alcohol. I'm forgetting that. When we got together to watch the game we were sailing, a time to get friends together, the Ravens win, the Giants win, so what? Unless you've got that gambling thing going. Credit cards maxed out, money withdrawn from savings, didn't mention it to the wife, so the Ravens-Giants had better win to make up for last week when you lost the farm (the cows, the ducks and the little baby chickens all).
Ah, more the fool I. This has been a very long half time because the game hasn't started yet. Maybe I'll stay here for a while and watch the toss. Watch Sting sing Roxanne for the four hundred thousandth time. In rechecking the Sunday paper TV magazine I can see the three hours blocked out from noon until three are for the pregame show and the following little note at three is for the game itself. A three hour pregame show. Wow.
Later. Didn't quite take that walk. Tomorrow, raining or not, walking or not, another week in the pit. Super Bowl Sunday. Here in Oakland.