Pesky People
---
I found a book in a used book shop Friday called shots from the hip by Alias Johnny Stiletto. There's no bio, but a brief introduction. Alias Johnny Stiletto evidently worked for the J. Walter Thompson advertising agency in London and carried a camera that he used to record his daily life in England and Europe. Published in Great Britain in 1992, it's a roughly 5 1/2" x 8 1/2" perfect bound paperback on a white semi-gloss stock, 190 pages with a commentary and a photograph or two on each two page spread.

This is street photography in the tradition of Cartier-Bresson, although I wonder at the quality of any one of the individual photographs. His technique is to literally shoot from the hip, point the camera in the general direction of the subject as he's walking or standing or sitting and shoot from waist height without bringing the camera up to the eye so the subject isn't aware he or she is being photographed.

I said I'm not convinced of the absolute quality of any specific photograph. On a photograph by photograph basis, I think I've shot better and I'm no Rembrandt with a camera. Too many people shot from behind, too many good, but not quite really good stand alone shots. Still, I think it a powerful book and the collection of photographs together achieve that special excellence that only comes through a personal vision. In that he achieves something special, something that I've not ever approached in my own work.

He uses a 35mm lens, a moderately wide angle lens that gives him a good field of view without adding
distortion. I have a 24mm wide angle, for example, but it would be too wide for this kind of work. I use a 35mm - 70mm zoom most of the time for my own photography and I tried setting the lens to 35mm on the cafe table this morning and shooting some pictures of passersby. The sun was creeping up just below the edge of the roof of the building across the street and a blue helium balloon was tethered to the white cross hatched picket fence that separated the tables from the sidewalk, so I shot perhaps 20 pictures of the sun rising behind the building, the balloon in the wind and the various people passing on the sidewalk between them. The 35mm lens setting seemed right. I didn't sit the camera on the table to shoot, I brought it up to my eyes with my elbows on the table, but to people passing it looked as if I was shooting the street, waiting for them to pass, so they walked on by without notice.
There are no real rules about street photography. John Free, the instructor at the weekend street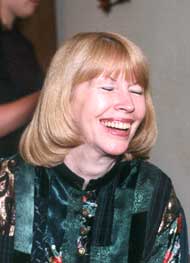 photography class I took in Ojai in the summer of 1998, felt you should use a standard 50mm to 60mm lens and get up close and in people's faces, stressing techniques to make that as painless as possible. He'd shot a photo essay some years back on the homeless living near the railroad yards in Los Angeles that was published in hard cover and one of his techniques was to bring his dog along with him. His subjects liked the dog and that was the introduction he needed to gain their confidence and to make them feel comfortable while he was shooting his pictures, although he had more than his share of people who didn't like dogs, cameras or photographers. You don't necessarily want to be out alone along the railroad tracks pissing off the locals with your photographs so he stressed talking with his subjects, tugging at his forelock with a good aw shucks or making a perceptive and favorable comment about the tricked out Harley-Davidson the 400 pound fellow who was bellowing in his face appeared to be riding. Stuff like that. Keep the bruises to a minimum.
Alias Johnny Stiletto used not a hidden camera, but a camera hidden by the fact it didn't seem to be in use. He stressed the camera position, lower than usual, kept at about the height you might generally see a motion picture camera operating. He said the eye likes it better. Could be. He wrote the book.
I realize not everybody is sympathetic to the photographer who wants to shoot pictures of strangers in the street. Legal is not the same thing as delightful. One reason I shoot parades and circuses, events where people expect to be photographed or, if not expect to be photographed, at least understand it may be part of the bargain is to keep this very problem to a minimum. People are less inclined to argue if the photographs seem to be destined for a newspaper and I'm not above trying to give that impression, but I try to be sensitive to people's spaces and try to shoot when the vibes are right and people are in a good mood. That makes me a less good photographer, I think, but a less bruised photographer who doesn't have to pay the rent with his pictures.
So, this afternoon before seeing Being John Malkovich I walked around the Grand Avenue, Grand Lake Theater district and sat outside at more than one sidewalk cafe with the camera beside me, the lens set to 35mm and my pinky finger on the trigger. Nice. I ordered a 35mm lens this morning mail order from New York. My Christmas present. I'm sure you'll all be happy to see me approaching, camera at waist level lightly steadied with my hand. Pesky people, these photographers. At least this one isn't shooting pictures at the moment.
Maybe I'll talk about Malkovich tomorrow.
---