On The Train
---
Saturday, some notes, written on the train:

Nine at night. The Emeryville station is new, no hint of what a train station might have meant in the age of steam. High ceilings, modern, a twelve foot banner proclaiming the 50 year anniversary of the California Zephyr, Pepsi Cola vending machines in the far corner proclaiming a contract excluding Coke from the premises. People arriving in one's, two's and three's. Walk down the platform to find the sleeping car toward the front of the train. The porter asks my name, how many people are in my party. One. One? Seems my ticket purchase over the Internet has not gone quite to plan. He shows me my stateroom sleeping five. Would I rather have one of the roomettes and receive a refund for the difference?

Ten in the evening. Cross the Sacramento river at Martinez. Miles of petroleum refineries, towers and ladders and lights lining the tracks. Into the flat land toward Sacramento now as I fall off to sleep, a gentle rocking, voices in the distance, fading.

I wake up at 6:30, still dark, my usual time now, I guess, burned into my brain through habit. Curious, really, my parents did the same thing when they were my age getting up on the weekends. I wondered why back then - I understood, assumed really, that the physical rules might be different when you're their age, now my age - why they didn't sleep in later the way I wanted, no, needed to sleep?

The first class parlor car is empty, although they've put out the breakfast buffet, fruit and pastries. I fill a plate with the fruit, I like the pineapple especially, and the attendant brings coffee and orange juice. The dining car is one car farther back and the meals are included with the ticket, but this is a nicer way to begin, elbows on the table, hands folded, thumbs under my chin, camera on the table beside me. We've climbed in the night up to a level of 5,000 feet through the Cascades past Crater Lake into Oregon where narrow, rutted logging roads lead into the pine tree forest and small wood cabins with wet swayback roofs are the only marks of habitation.

There's a feeling of roughness, of bulldozed scars once hacked fresh into the forest now turned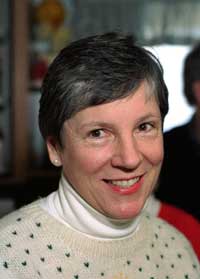 brown and dead with age. Rocks and boulders scrambled along the river banks below. Reminds me of the northernmost tip of the Olympic peninsula in Washington State where you can stare across the Straits of Juan de Fuca at Victoria Island in the distance, a cold wind of immense depth and dimension blowing in off 5,000 miles of open Pacific. This land we were passing seemed like that land on the ocean, young and primitive, anything and everything wrested from it at a price, the marks of Caterpillar tractor blades still in evidence, fir trees standing lock step along the tracks. The train passed through tunnels and cuts that looked like they'd been hacked out of the rocks at the turn of the century. Someone had to do that. You wonder how. And when. And who.
Now we're down on the flat Willamette Valley floor with farms stretching on either side of the train, if not the Willamette river itself, then tributaries of the Willamette river running high on their banks beside us, dark green to faster moving turquois to breaking white. Everywhere water, everywhere wet. Oregon seems like a Washington I knew 40 years ago, but wetter, if that's possible.
Small clapboard houses now, wet and sagging in the rain, with great fiberglass satellite dishes erected beside them, a juxtaposition of rural America and John Carter on Mars. Small white houses with dark green tar paper shingles trimmed with painted gutters. Here in the wet farmland and forest far from the world yet the world was right there in the living room. I wonder. What kind of Internet access did they have? Which of these houses hides another journal?
Further on. Mud and puddles and earth moving equipment at the edges of the towns, tin shacks, open sided tents on aluminum frames erected on top of cement slabs rayon blue in the rain. Box cars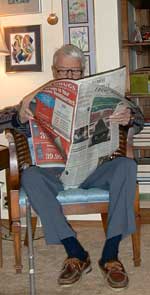 bearing the pastel art deco medallions of spray can artists. Pearson's Art Gallery, carved Indians, six foot birds and animals of every kind in front of a ginger bread house voicing a classic "come in" to the cars who pass on the two lane blacktop highway beside it. Would that be such a terrible life, I wonder, polishing knick knacks and selling post cards printed with clever sentiments to the tourists out here all snug and warm in the rain? Or is this the first sign of train fever? A loosening of the grip.
We arrive in Portland around 4:30 in the afternoon, four hours out of Seattle. My sister and mother are waiting at the station door and I carry the luggage and packages to my compartment. My sister will be staying in Portland, but my mother will be travelling with me on the train to Seattle for the party and then return on Monday with her brother and sisterinlaw who will be driving up tomorrow and returning by car on Monday morning.
I can tell that my mother has rather quickly decided that two people in a "roomette" is one person too many, but it's time for dinner so we walk back to the dining car and order one of everything with two or three glasses of wine. Small talk, who is doing well, who is doing better. Some subjects broached with discretion, the countryside passing as we talk of minor lights and family matters. On our side we have an excellent view of Highway 5. Ah well, whatever magic it is I get from this train ride is mine alone, I guess, always has been and most people are discreet enough to cluck encouragingly without raising an eyebrow. A harmless pursuit. It's his time, after all, and his money.
Seattle, raining, a cab from the station north to Ballard. The streets I travelled in another life when I was here in school were still familiar. New buildings I haven't seen before, but old ones as well. Old cafes and shops with different paint, signs and owners but familiar none the less. Driving up 15th Avenue NW. I can remember driving with my parents in a new '49 Ford, watching them fill the tank with gas at a corner station, 23 cents a gallon. Or was it 25? The New Ballard High School looming like a prison (a design legacy of the 90's?) over Zesto's across the street, a what?, '57 Chevy two door with fat white walls sitting up over the entrance like some Doo Wop throwback from the 50's. Comforting, somehow, to see it still.
Nine Sunday evening, the party a success, writing this before I got to bed. I shot a lazy three rolls of film, none of it particularly inspired, but they'll turn out all right. I'll send them up to Vivienne the end of next week. Fly back to Oakland tomorrow. Get ready for Christmas.
---