Forward, Maybe
---
It's raining a hard grey rain. No dark threatening clouds, no wind to speak, just a hard steady rain, grey fading into an ever greyer distance. Yesterday, I'm told, was the shortest day of the year, the winter solstice, and today begins the progression toward light. Light would be nice. Still, this is Christmas, it's supposed to be cold, it's supposed to be raining - snowing is more traditional, but this, you know, is California and we keep a little snow around, but up in the mountains for skiers and people who need it for making motion pictures. So I'm into this day, the rain and the weekend.

Wuss is lying on my lap. He's been to the vet. I wondered if the pills he's been taking were the source of the blood in the urine, so I skipped his dose this morning. His bladder is large and tight, the vet thinking there's a mass of some kind inside, so either his bladder is all clenched up and causing this tightness/lump or he's got something more serious. Since they looked him over pretty carefully in Davis, undergoing every test known to cat and man, I'm thinking he's got a shot at the clenched up bladder, otherwise I suspect this is not going to end very well. You never know. Not a lot of vets around over Christmas.

He said he was an old cat, fifteen, eighteen years old. Really? Well (looking at his records),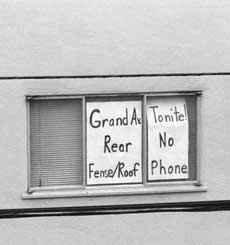 his first examination was June of '86. Yeah, except I first brought him in for a checkup in June of '94, maybe, '96 probably, hence the error. (Why do I not trust this vet?) Still, even June of '96 is five years. If he was seven when I got him, that's twelve and that's getting along. I'd been thinking eight or nine. So he's old and skinny and, I think, from this particular vet's point of view, dying. Fuck 'em. I now have two pills in hand designed to "unclench" his bladder and another appointment for this coming Thursday. I'll call the small animal people in Davis right after Christmas.
Sunday morning. Wuss seems better. He's not eating as much as he usually does, but I didn't find the large pink tinged spots on the paper towels I'd placed on the chair where he likes to sleep when I got up this morning. I still can't let him up on my lap without him wetting my pants, but what the hell. It isn't raining. I've had breakfast down at the cafe. I played with some equipment I bought over a year ago (and haven't touched until now) that links my strobes together for product shots and portaits yesterday afternoon here in the apartment. About time. They seemed to work. Forward, maybe.