Or Is That Obvious?
---
I notice Diarist.net has posted their list of male and female journalers by date of birth and The Sole Proprietor is tied for 5th oldest male journaler from a total of 428. I don't know if that's good or bad. I like the position near the top, but 1943 sounds more and more, well, ancient. World War II was still underway. I turned 10 during the Korean War and I had a girlfriend who turned 16 when the song 16 Candles was on the charts (which I bought, of course, for the party). You don't need to ask about 16 Candles, it wasn't very hip, but 1959 wasn't a bad year to turn 16. Elvis was the young Elvis and the young Elvis was something else. I listened to Alan Fried (before they put him in jail) and Cousin Brucie, who was replaced by Murray the K, all this in New York. Ah well. I never went to a rock concert at the Brooklyn Fox. Maybe that's a regret.

Mr. Wuss will go back to the vet tomorrow. One of his back legs is swollen because that's where he was bitten or that's where he hurt himself when he freaked out beside me on the bed or that's where the alien space ship zapped him with an interstellar slingshot. He can walk, but his back legs are clearly weak and I'm not going to be happy until I find out what that's about. I hope it isn't the slingshot. I'm not ready for alien space ships. He ate most of the can of cat food I opened for him when I got home and he allowed me to lift him up on the desk for a proper petting, but he's back in the corner, more lounging than hiding really, but still under the desk.

My image of the lady is a chicken photographer's shot. Taken quickly from the side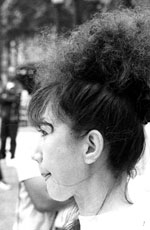 instead of from the front. The lady might say please don't do that and I would comply, of course, but although I was taken by the way she dressed and particularly with how she used her (shades of purple to black) makeup, I was still too chicken to take the photograph properly. None of what I was looking for is apparent in the picture because it's not framed properly, it's just another throw away photograph and an example of what I've been doing lately. I'm not too worried, since I assume this will change as it's always changed and I'll start shooting again with enthusiasm and attention, but lately it's been carry the camera, point it half heartily and shoot some photographs, I need them for the journal. This morning, walking to work as the sun was rising, I passed a number of buildings in the early light that stopped me, wishing I'd brought a camera loaded with color film. I'll have one with me tomorrow. I shot a couple of pictures in black and white and I'll run one tomorrow, but they'd have been better in color. Maybe I've turned the corner.
That paragraph sounds like a mind on empty filler, something you write when there isn't much to write. I've been thinking that when I get into this mood I should try something farther out, something more off the wall to see if I can't find something altogether different. And fun to write. Many journalers come from a background of writing actual journals, as in bound books of paper with locks, and there's a certain bias toward writing about thoughts and things that have actually happened. I'm more into the "if it reads OK, post it" crowd, we'll fax you the facts later. Or is that obvious?
---