Goodbye To On Display
---
Lunch today at Schroeder's. MSJ mentioned she'd been there once before when she was much younger and she was up for checking it out. It was everything I remembered except for the painted murals up high on the walls below the white dark beamed ceiling. Same food, very good, large beer hall size room, older waiters in white shirts and black suits, good service, lunch was $19 each with tip. My pre-Nazi period comment from yesterday wasn't fair, but it felt right, somehow. An older age, some of it remembered with nostalgia - The Student Prince operetta aspect - some of it remembered from high school German. It was old when I was young. Ich weiss nicht. Good lunch.

I watched the Nova program about the Vikings last night, or at least the first part of it. Turns out I've seen it before. Leif Erickson did discover North America five hundred years before Columbus, they seem to have definite evidence of that, but Leif didn't stick around because the local inhabitants, the Indians, kicked his butt back to Greenland. Greenland. I believe the Icelanders all froze to death in Greenland during the Little Ice Age, but that was probably covered during the second half of the program. Which I didn't watch. Last night. So much for the New World speaking Icelandic.

I, the news junkie, am not able to watch or listen to the Republican National Convention except in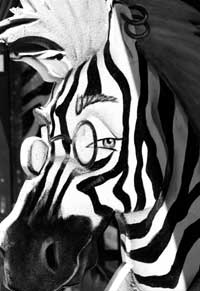 little pieces. This is not a particular comment on the Republicans, I'd say the same about the Democrats, or I assume I will say the same thing about the Democratic Convention when it's aired, because none of it makes any sense. Political speak is like company speak, the really good practitioners speak from an unspoken set of rules that make all of them sound like robots. This is true of elected officials and managers of every stripe, private or public. The ability to convey a coherent current company line in carefully selected terms, that may or may not have any relation to reality, is the skill and the objective. They are really not talking to you, but at you, you as audiance rather than person. It is a skill like any skill and when it is really done well it is admirable. It's just that it requires a way of thinking that I find maddening.
There is a reason off the wall people like me don't run companies. We found companies, but we make terrible managers because the skills that make for a good manager - remember now, a skill I can recognize and appreciate, if not covet - drive me nuts. So the best thing you can do with someone who has founded a successful company is, at some point, take it away from him. Leave his or her picture on the wall with a nice little brass plate that says nice things, but don't let them within a hundred miles of the front door.
I took my site off the On Display web ring today admitting finally that I'm just not up to writing another collaboration against a deadline. I took down the code, sent an email to the group thanking them for a good and challenging time and then unsubsribed from the On Display mailing list. The unsubscribe evidently beat my email to their server, because I received an undeliverable email warning asking why I'd mailed to one of their lists when I was not a member. Efficient, but I wanted to thank their ring masters and members for this last year. Anyway, thank you all. Time to move on and make room for others.