Baddgrrl is running a "Quizlet" asking when its appropriate to go all the way with your date, the quickest being "After you've memorized their first name". That's good and that's pretty quick, but the Sole Proprietor remembers some variations he and his friends liked to practice when the moon was full and the wind was in the trees.

The Sole Proprietor has come to believe that he and his friends, men and women both, once kept a kind of score, a somewhat secret collection of interesting ways to get laid that they'd all worked upon, added to one lay at a time, checking out these weird and wonderful things they'd heard about since they were kids, wild parties, furious sex and slippery love on the kitchen table in the early afternoon. We'd heard all these stories of fabulous people who did it in ways too interesting to ignore so why shouldn't we try it ourselves, now that we were out on our own, had the pill, had the apartment and AIDS and BAND were kept in a box behind the medicine cabinet door?

So we worked out. Having sex with someone you'd just met at a party in a closet, for example, or the bathroom (less points for that, the closet was better) or in an empty office at an office party. Everyone kind of wondered what it would be like to be pumping like a Ferrari with a party swirling outside a closet door. There was no particular reason to know or not to know the person's name, but that was all right, plenty of time to talk if you were still together when morning came.

There were a certain number of exhibitionists who liked to have sex in the middle of the floor with everybody watching. The most "exhibitionistic" event of this kind the Sole Proprietor can remember was at a Rip Off Press party with 250 people gathered around, the couple having a sudden rush of passion behind the bandstand. He never knew if this was a strangers' first met affair, but it wasn't a question anyone thought to ask at the time.

Doing an "in front of a crowd" thing seemed to happen more often at smaller parties, held at someone's house, but not necessarily where people knew one another very well. One story involved the daughter of a famous writer (a famous writer the Sole Proprietor considered a Goddess, a deity of her kind) who did it with a fellow she later married. This was a first time meet and the Sole Proprietor realized that getting together with someone can happen in a great many inventive and wonderful ways.

The Sole Proprietor has had his share of sex in the closet, party roaring outside the door, of course, most everybody's done that after a while, but it was always with someone he knew pretty well who was just as interested, he realizes now, in exploring all these little boundaries on their own, conspiring in a kind of unspoken plot to partake in all the mystical fucks they could manage before the relationship ended and everybody went home.

Multiple partners was big for a while as well. A close friend of the Sole Proprietor gave a birthday party for her new beau by waking him in the morning standing stark naked in front of the bed with her girlfriend beside her, stark naked as well, a bottle of Champagne in one hand and a couple of grams of coke in the other, saying "this is your day sweetie!". The Sole Proprietor has always had a sneaking suspicion this was done not only to make her boyfriend's day, but to let it be known to one or two others that they may have been hasty in not getting together with the lady themselves, having been just a little stupid perhaps in letting her be picked by another. The Sole Proprietor, for example.

The lady's brother, of course, heard of the event (and related it to the Sole Proprietor) and was upset that he'd not yet had the experience himself. The Sole Proprietor remembered talking with this friend's then girlfriend on the subject, a graphic artist for High Times Magazine in New York City who was visiting San Francisco and thinking of ways to make this relationship with him work. She knew he wanted her to arrange one of these affairs as a little surprise, a kind of personal party favor, and although she had a girlfriend she was sure would be up for the event, she was also worried her girlfriend might get too used to this arrangement and return in her absence to practice on her own.

The Sole Proprietor's thoughts had more to do with the management of things. Good manners would require that you banged your old lady's girl friend to show your appreciation, but how much passion should you demonstrate and what if you appeared to be having more fun with the friend than you were having with your own old lady herself? Were there not too many ways to screw up your relationship, too many ways to lose a perfectly good old lady who's heart, after all, was in the right place?

Time to shift some gears.

Some Thoughts on Hot Dogs:
MD Comics, a member of the Journal Ring, had an entry recently talking about hot dog vendors and what combinations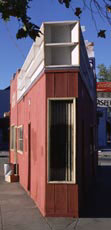 on a bun various cities and regions offered as their own. There are not all that many "good" hot dog vendors in the Bay Area. The best to his knowledge is Top Dog in Berkeley, Montclair and down the street on Broadway in a large Rite Aid store. They serve high quality dogs that remind the Sole Proprietor of a place called The Noble Frankfurter that was located on Union Street in San Francisco near the old Matrix. He remembers that they opened two more branches and then, for whatever reason, closed. They flew frankfurters in from Nathan's in New York City amongst other places and provided nice mustards and a condiment bar. The Sole Proprietor likes them plain with mustard or, when his head is in a little different place, some pickle relish as well.

The "Original Kasper's" is located on Telegraph down the way, housed in its original building, a fine weirdly shaped affair all painted red. The Sole Proprietor went in once and met the son of the founder and then the founder himself, a nice gentleman getting on in years, but a good sense of humor and a liking for friends and strangers both. The Sole Proprietor had one of their hot dogs and cannot recommend them. He doesn't like dogs that have a tough skin and you have to make an effort to bite through them. Steamed, then stored until they are sold. He will have another one day soon to be sure his memory is correct, though, it's no fun to say skip the hot dogs made by people who are otherwise so very nice.

The Casper's chain (One's spelled with a "K", the other with a "C", but one is the original, the other the spin off.), and there is one located up Telegraph from the original just before the Highway 24 overpass, sells even worse hot dogs and in the case of this Casper's, the people who work there seem universally pissed and unhappy that you've come into their shop and disturbed their otherwise miserable day. No stars for this one whatsoever. The folks at the original (lots of bad blood between them) would say the same.

A good day today. Lots to do, but lots of energy and action too. This has been happening more and more often lately, having something to do with some life changes (getting the body both repaired and pared). Too bad he didn't do some of these things long ago.
---