Don't You Think?
---
Merry Christmas. I'm not sure what happened yesterday. I was walking to breakfast Monday morning and most of it was written in my head by the time I got to the cafe, although I never used the clever line I wrote down in my notebook when I got to my table. Once I get something down, it's difficult for me to toss it, have to come up with a new idea, you understand, start all over. So, uh, you know, have a bin Laden free Christmas. Really.

My sister tells me the family party went well on Saturday in Seattle. Much singing, everybody happily tired when it was over. My family has a history of singers and musicians. Even my sister had a couple of singles released when she was in college. We sing at Christmas. I sing at Christmas, in the shower and on the road in the car when I'm alone and no one is listening.

Mr. Wuss seems better. The vet gave me some antibiotics to see if they'd swack whatever he'd found inside his bladder and I worried that Wuss might not make it through Wednesday. Sunday morning he didn't follow me around looking for breakfast, not hungry, no puddles, cat box dry. I'm told cats don't last very long when they stop peeing. Today was better. I let him sleep with me on the bed last night, laying a rubberized piece of carpet with a folded bath towel on top and he curled up beside me without a problem.

He's eating, maintaining himself, and although he's still not peeing like a good cat should, he seems better. I can see small what appear to be blood free puddles on the kitchen floor near his dish. He seems to be drinking, but the litter box is still dry. Antibiotics kick in for people about three days after you start taking them, I assume it works the same for cats. We started the fourth day this morning. Maybe they're doing him good. Maybe we're lucky. Maybe.

I just finished listening to a program on public radio about Jerome Kern's early music before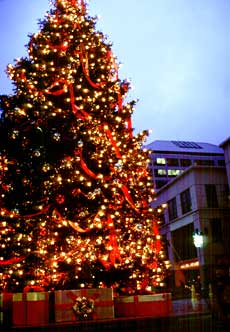 he composed Show Boat. Public television ran a similar program recently on Richard Rodgers. This one is called The American Popular Song Series, so I assume there will be more of them. My one performing success took place in my late twenties on a train heading for Seattle with some college friends. We were returning home for Christmas. We'd met a bunch of other folks on the train who were our age, maybe younger, and we drank and sang sprawled out in one of the Vista Dome cars until morning, and I, sufficiently drunk, sang Old Man River for the assembled similarly drunk multitudes sometime before we crashed and burned at the Oregon border. Figuratively, of course. A real performance, though, belting it out like, well, like I knew what I was doing.
The next morning - we were young, we were broke, we were travelling coach - I returned to the car and one of the women who'd been in the audience said how much she'd appreciated my singing in a way that made me realize she meant it. Nice. Everybody says they wish they'd continued their piano lessons as a kid (cause by then they could play like Rachmaninov). I wish I'd been smart enough to take singing lessons when they were offered so I could sing Old Man River every time I found myself on a train heading for the Oregon border.
Anyway, what started this was Jerome Kern and Richard Rogers. I'd forgotten how well their songs hold up, how much I like them. So I did a search on Google and Amazon to see what might be out there. Maybe I should try eBay. I have a copy of Show Boat, of course, not bad, I should get a copy of Roberta (Smoke Gets In Your Eyes - I bought and still have the Platters 45 when it was released in the 50's - and Yesterdays, among others). The trick, I think, is getting renditions by singers from the period. Roberta with Fred Astaire is available on DVD and I need that. Same with Show Boat, Paul Robeson doing Old Man River, I have it on lp.
Robeson owns Old Man River. Hard to bring it off when you're a white boy up there emoting "Tote that barge, lift that bale, get a little drunk and you'll land in jail." The only cotton I ever picked came out of an ear, although I once spent an hour late one night in the Sausalito police station discussing what turned out to be an unpaid traffic ticket. Still, Christmas, nostalgia, a couple of shots of whiskey. This is the time for them, don't you think?